宜鼎国际M.2 (P80) 4TG2-P工业用闪存模块
产品简介:
宜鼎国际M.2 (宜鼎国际,闪存模块,P80) 4TG2-P工业用闪存模块快
产品分类:
工控机 工控元器件 存储器 工控机配件 存储产品
品牌:
宜鼎国际
产品介绍
产品特色
PCIe Gen. IVx4, NVMe 1.4
Excellent data transfer speed
Stable sustained performance
Heat-spreading design
LDPC ECC engine supported.
Thermal Throttling management
Overview:
Innodisk M.2 (P80) 4TG2-P is an NVM Express SSD designed as the standard M.2 form factor with PCIe interface and 3D TLC NAND Flash. M.2 (P80) 4TG2-P supports PCIe Gen IV x4, and it is compliant with NVMe 1.4 providing excellent performance. M.2 (P80) 4TG2-P with heat-spreading design dissipate heat generating from IC making SSD perform more steady. M.2 (P80) 4TG2-P have Die RAID protection to reduce bad blocks happening and optimize data integrity.
Innodisk M.2 (P80) 4TG2-P provides ultra-speed and high IOPS and offers maximum capacity up to 4TB, making the SSD optimal for server and heavy data workload applications.
规格: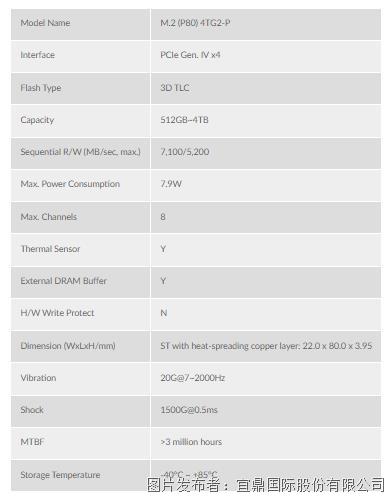 产品料号:


查看更多评论
宜鼎国际InnoAgent EZ2N-0XL1工控周边扩展卡
宜鼎国际DDR5 WT SODIMM工业用闪存模块